Home
›
General
Star Wars - General Discussion (Spoilers all)
I couldn't find a thread discussing Star Wars in general, which is something we do a lot here. I figured I'd make a catch-all if anyone else wants to use it in the future.
Part I - Use the fans
First of all, this was moderately amusing and contains one good idea which I'll write after the video link in case you want to watch it spoiler-free.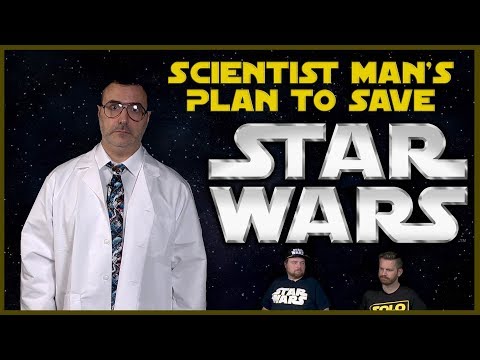 The idea is that Star Wars should just cash out on the hardcore fans who will spend
tons
of money and aren't very critical. I have a 30-something friend who fits the bill perfectly. He buys Star Wars lego sets for hundreds of dollars, and he enjoys all the movies because of the battles and ships; at least that's how he's described it to me. He's actually really discerning about media otherwise... it's just Star Wars is his blind spot, I guess.
Part II - Location, location
This is the line for Harry Potter's Wizarding World in 2010.
In Disneyland, Galaxy's Edge opens summer 2019. In Disney World, Galaxy's Edge opens late fall 2019.
I don't think Galaxy's Edge will have nearly as big of an opening as what Harry Potter saw. For one, I think fans have cooled off on the franchise. (Of course I think that, being one of them.) For another, Star Wars is about a feeling and Harry Potter... I mean, whatever Harry Potter is about, it's got a strong sense of place. Harry Potter might actually be about
belonging
, so of course it has a strong sense of place. The only place I think I want to go in Star Wars is the Millenium Falcon, and I want to go there about as much as I want to go to the Weasley's house, which is to say... some.
However, fandom isn't quite so conscious a thing as this, so this is just a loose prediction. I haven't even been to the Wizarding World because Universal Orlando, what the fuck is that? If I'm in Orlando I'm going to Disney World, and seeing Galaxy's Edge is $60 (it's about $60 extra for a park hopper ticket) and seeing Harry Potter in both Universal parks is $200. So budget-wise and park-wise, I'll be voting for Star Wars long before Harry Potter.
Part III - How to bring down the Empire
About the recent gossip about Kathleen Kennedy having been nearly fired,
Beyond The Trailer on YouTube had an interesting idea
that I think might work. Assuming Kathleen Kennedy is under scrutiny right now (and I think that's safe to say), episode 9 is a very important movie for her. If fans decide to wait out this movie, we could "vote" for her being fired. I care so little about episode 9 that I'm thinking about trying that.
The more I've pondered this, the more I think she deserves it. Not that it's all her fault, but look what a great storyteller like John Lasseter can do for a brand. Or whoever's running Marvel. There have been four Star Wars movies under KK. I think one of them is good, I think one of them is merely fun, and the rest I
hate
. And one of them I think is absolutely fucking awful (RO). What kind of track record is that?
I'd love to see Star Wars in capable hands.